Accommodation – Self-booking
The Congress Secretariat has selected a range of accommodation places for delegates to choose from and has negotiated guaranteed rates. From ..... residence accommodation to luxury ...., there is a comfortable and convenient option suited to every delegate's preferences and budget.

Please indicate your preference on the booking form below.

Hotel Reservation english - Download: doc 30 kb
Hotel Reservation german - Download: doc 30 kb
Hotel Reservation german - Download: PDF 100 kb


Hotel informations
For booking your accommodation, you will find more informations here: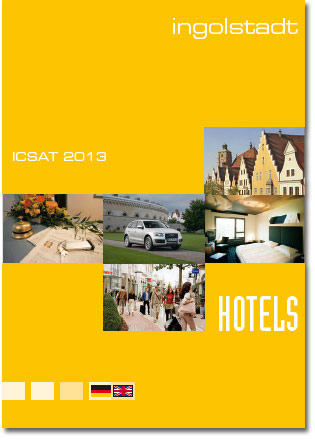 Hotel informations - Download as pdf 1,7 MB



More informations
To get from Munich Airport to Ingolstadt, you can use the bus shuttle service of "Ingolstädter Airport Express".
Here you will find the schedule: http://www.icsat2013.com/downloads/airportexpress2013.pdf. You can buy the ticket directly at the bus driver: oneway 20,00 € / return 33,00 €. You leave the bus at "ZOB" (central bus station), from there it's only a few minutes to walk to the city center and the hotels.

If you want to get from Munich Airport to Ingolstadt by train, you will first of all have to use the urban railway (S-Bahn) to Munich main train station (München Hauptbahnhof), that takes approx. 45 minutes. Then you go by train from Munich main station to Ingolstadt main station, this takes also approx. 40-60 minutes (depending on the kind of train).